It is not that these things are just now happening. These things have went on for years, decades and centuries. We as people are finally recognizing the crime involved and hopefully our actions will save lives.

Either in life changing or life ending ways. People used to push this kind of thing "under the rug". Or another phrase would be "skeletons in the closet". Seriously thinking that if they couldn't see it, it didn't exist, well, it does exist. Teen date violence is a precursor to domestic violence. The teen that abuses in a dating relationship, just grows up to abuse their spouse. Sadly the abuser most often needs as much, if not more help than the abused. Yet, the victim/survivor has to live with the mental and emotional toll that will forever change how they view the world. Whether good or bad the outcome alters your life forever.
Having teens, I'm so glad for the programs that are out there to help parents and teens recognize the signs. Liz Claiborne Inc.'s teen dating violence prevention initiative, LoveIsNotAbuse.com, has launched an iPhone app designed to educate parents on everything they need to know about teen dating abuse - how to spot the warning signs, get help, and more importantly, start conversations with their children about dating before abuse can even begin - all in one easily accessible tool.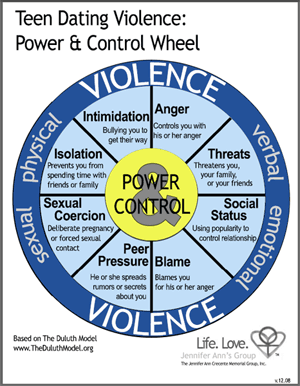 One of the app's most interactive features is that it actually allows parents, through a dramatic demonstration, to experience firsthand how technology plays a role in dating abuse. Parents receive increasingly menacing phone calls, text messages and emails that play out the types of controlling and threatening behaviors faced by nearly 1 in 4 teens. The impact is immediate and important: empowering parents to talk to their teens.
Check out the app preview video featuring Liz Claiborne Inc. Chief Creative Officer and co-host of Project Runway, Tim Gunn, and photos from the launch event in New York City. For details on the Love Is Not Abuse app or the recent study, see the press release or for updates, be sure to visit Love Is Not Abuse on Facebook and Twitter The app is available for download FREE OF CHARGE in the iTunes App Store >(search: "Love Is Not Abuse").
This is a vital issue facing our children, and I hope you will help to support this initiative with Liz Claiborne by spreading the word to your communities.
Visit http://challenge.gov/HHS/199-apps-against-abuse for information about other apps on this subject.
I was not compensated for this post. Opinions are 100% my own.
Disclaimer:
From time to time I will share information about products and services I recommend and/or use. Assume I may be affiliated with these products or services. For more information read my
Disclosure Page