This site information is for Musings of a Modern Mom.
Things I participate in as a blogger and website statistics. If you have any questions please feel free to email me through my Contact Page.
Thank You for your interest.
As of Aug 31, 2011
Page Views 3,984 per month
Unique Visitors 2,556    per month
Alexa Traffic Rank 70,080  (Nat'l)
Alexa Traffic Rank 11,195 (US)
27,869     (Canada)
MozRank 4
Google PR 2/10
Google Friend Connect 963
Facebook Fans 1312
Twitter Followers 2,348
Triberr    393,293 reach
The website www.musingmom6.com ranks
69,920 of the 3,515,113 websites that have been ranked so far.
A website grade of 98/100 for www.musingmom6.com means that of the millions of websites that have previously been evaluated, our algorithm has calculated that this site scores higher than 98% of them in terms of its marketing effectiveness.
The algorithm uses a proprietary blend of over 50 different variables, including search engine data , website structure, approximate traffic, site performance, and others.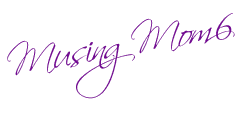 Disclaimer:
From time to time I will share information about products and services I recommend and/or use. Assume I may be affiliated with these products or services. For more information read my
Disclosure Page