This is definitely something we can all do, with very little effort. I have mine in a small pouch in my purse. The pouch is small enough to fit in a man's pants pocket as well.
CARRY YOUR ROSARY EVERYDAY
When you carry a Rosary it will remind you of Christs redeeming grace. The world is full of temptations, carrying a rosary can be a gentle reminder that we need to stop before acting and pray for God's wisdom and guidance. The evil all around us will try to discourage you.

Help hasten the triumph of Mother Mary!
Send this to your prayerful friends and see how the Holy Spirit works!
There is a great deal to gain and absolutely nothing to lose!
***************************

Imagine what might happen if every person in the world would pray a Rosary every day! When people have prayed the rosary on the same day, during the same set time, God has done wonders to help the world. We have an example in October of 1573, when Europe was saved from the invasion of the mighty Turkish fleet, by the praying of the Rosary by all Christians!
So, let us all pray a Rosary for peace in the world and the return of moral values into our communities. If possible, please pray your Rosary between Noon and 3:00 pm. Pick a day, any day and pray the rosary. God knows where you are and who you are. If possible bring your family together and your extended family at a distance can pray with you at the same time. Your prayers will be united as it states in the bible, Matthew 18:20 "Whenever two or three come together in my name, I am with you."
Also, please e-mail, tweet, share on Facebook, Google +, etc, this message to every person on your contact list, and ask them to pass it along to every person on their lists.

(Use the share buttons below this post)
Let's unite in praying one of the most powerful prayers in existence for peace.
Leave a comment below if you think this is something you can do. Questions are always welcome if you need find out more about the rosary or where to find one.
God bless us all!
Disclosure: I've seen this type of request before and added my thoughts and let the Holy Spirit minister to my words. I think this would be a very simple way to join with others in prayer and without pressure.

More From MusingMom6
MusingMom6 Recommends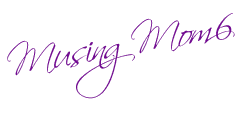 Disclaimer:
From time to time I will share information about products and services I recommend and/or use. Assume I may be affiliated with these products or services. For more information read my
Disclosure Page