When you have multiple children living in the home space can become an issue, particularly when you only have so many rooms. One of the best ways to tackle this problem is to buy bunk beds to help free up some space and add some additional storage possibilities, depending upon the type of beds you buy. The question that often comes up for parents is, are my children ready for bunk beds, and are they safe? If so, how do I know what is the right bunk beds for my children?
To begin answering these important questions you might want to first ask, do my children really need to have bunk beds? First of all, how old are they? If you have children who are six years old or younger then this may not be a very good solution for you at this time. Experts agree that most children under the age of six should not sleep or play on top of bunk beds, and there are even some who are more conservative indicating that children under nine years old should not be using them. The trouble is, by early teens this becomes less attractive to your children.
To answer the question of whether or not your children, who are of the right age, should be using them, there are a few         things to consider. For one thing, if you have any trouble with a child that won't go to sleep, or at least bed, then bunk beds can be a great option because of how fun they are.
One of the biggest concerns for parents is safety. In addition to the age restrictions, it is important that above all other recommendations you take into consideration your own children. This is important because they may be well above sis, or even nine, and still are not the type of child that is safely suitable for using bunk beds. There should also be safety rails in place and the top bunk should have a rail that extends at least five inches above where the mattress is.
Most importantly use your own judgment. If you think your child is safe, and this is a great solution for your home regarding space, then by all means it is something you should do. The key is to make sure that you understand that no mater how prepared and well behaved your children are, accidents can still happen.
Disclosure: This guest post brought to you by, Robert Lobitz
More From MusingMom6
MusingMom6 Recommends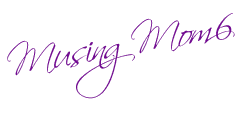 Disclaimer:
From time to time I will share information about products and services I recommend and/or use. Assume I may be affiliated with these products or services. For more information read my
Disclosure Page