Have you heard? International Christian Mompreneur Network is bringing together successful and inspirational mom entrepreneurs for a FREE 2-Day Virtual Business Summit – and you're invited!
Some of us would like to find a way to be flexible with our lives. Be a stay at home mom and find a way to be independent, valued and additionally productive. That time is different for every woman.
LOOK at this powerful group of women who are going to share their tips on how to create a profitable business while putting family first:

Joyce Bone
The Art of Raising a Business & a Family at the
Same Time
Sheri McConnell
Smart Women's Success Strategies – Secrets of
Women Entrepreneurs
Pam Moore
Get Real to Inspire, Connect & Achieve Results Online
Jim DeBetta (ok, so he's not a mom, but he works with a lot of them!)
Got an Invention? How to Evaluate It, Get It
Produced, and Out to Market
Maria Bailey
Be Mom Inspired, Integrated and Connected
Lori Bell
The Successful Entrepreneur's Secret: How To Prosper
Where You're Planted No Matter What Your Economy Is
Jill Salzman
Why Moms Make the Best Entrepreneurs
If you're a mom who's trying to run a business while raising a family, you have to check out this FREE Resource from the International Christian Mompreneur Network.
Free Shipping on orders of $25 or more at BarnesandNoble.com!
More From MusingMom6
MusingMom6 Recommends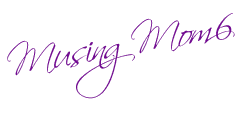 Disclaimer:
From time to time I will share information about products and services I recommend and/or use. Assume I may be affiliated with these products or services. For more information read my
Disclosure Page