The Blessing Series by Beverly Jenkins
, has me ready to dig into the second book. Bring on the Blessings, the first book in the series, had me hook, line and sinker. I like reading about people doing good and bringing about good from bad, now that is definitely doing the Lord's work.
Bernadine Brown is a woman that worked her way up from poverty, became a social worker and then a wealthy man's wife with all the wrappings. An unexpected event made her a very wealthy woman and divorced. To overcome her yearnings of wanting to get back to helping children caught in the social care system, her prayer was answered in a unique way.
Ms. Brown uses her knowledge and influence to help a town and 5 children learn new ways to live and cope with life and it's interesting way of bringing new and old together to create something better. Two couples volunteer to help raise two of the children. They find that their personal history is linked to Henry Adams, Kansas in a unique way.
The historical fiction interwoven with spiritual groundings and working for a greater good in this book made me feel like I was walking unseen through the town, watching everything unfold.
Blessing Series by Beverly Jenkins
has two more books in this series, A Second Helping and Something Old, Something New.

More From MusingMom6
MusingMom6 Recommends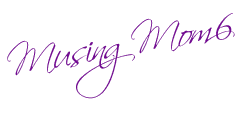 Disclaimer:
From time to time I will share information about products and services I recommend and/or use. Assume I may be affiliated with these products or services. For more information read my
Disclosure Page