I would like to share this press release about an anti-bullying campaign. My oldest daughter and son were bullied at a very young age. Stopping bullying and educating people to teach kindness and tolerance is very important to me as a parent and person.
Today marks the anticipated launch of "Bully," a controversial documentary that follows the lives of five students and their struggle with bullying and abuse.
Showing their support of this issue, Tanda Zap is now launching the Zap Bullying campaign on Facebook to raise awareness and help empower teens to feel confident and secure in their own skin.
So how can you join us in taking a stand against bullying?
It's simple! Visit www.facebook.com/Tanda, 'Like' the page and look for the Zap Bullying tab. Then 'Vote' to Zap Bullying! For each 'Vote' Tanda receives, the brand will donate $1 to STOMP Out Bullying™, a national anti-bullying organization and Tanda's partner for the Zap Bullying campaign.
I would like to help by encouraging my readers, fans, followers and friends to vote as well!
(Hashtag: #ZapBullying)
Will you spread the word and help us Zap Bullying?
TANDA LAUNCHES "ZAP BULLYING"CAMPAIGN
Brand Raises Awareness and Funds for One of the Most Important Issues Facing Teens Today o – Tanda, a pioneer in energy-based at-home beauty devices, announces its Zap Bullying campaign to raise awareness among parents and teens about this epidemic and to empower teens to feel confident and secure in their own skin. The multifaceted campaign from Tanda Zap, the powerful acne clearing technology endorsed by leading dermatologists and successfully used by thousands of users across the country, will include a partnership with the national leading anti-bullying organization STOMP Out Bullying™, a social media awareness campaign and a limited edition blue Zap device to support the cause.
"We envision a world in which young people feel safe from bullying and we're thrilled to partner with the STOMP Out Bullying™ organization. We share their commitment to help people take a stand against bullying in schools and communities," says Fabian Tenenbaum, CEO of Syneron Beauty, the maker of Tanda branded products. "Tanda Zap offers ground-breaking acne clearing technology to help teens feel comfortable and secure in their own skin and we hope that this initiative will raise awareness and dialogue around this issue and that ultimately it will serve to help foster greater understanding and mutual respect among teens."
Tanda Zap invites consumers to "Zap Bullying" and pledge support to this social campaign by visiting its Facebook page, www.Facebook.com/Tanda. "Like" Tanda and then "Vote" to Zap Bullying. Tanda will donate $1 for each Vote to the STOMP Out Bullying™ organization.
"We are so grateful to have Tanda Zap as a philanthropic partner," says Ross Ellis, Founder and CEO of STOMP Out Bullying™. "Together we can reach more schools, kids, teens and families affected by bullying with the critical educational resources and support services they need."
As part of the campaign, the brand will introduce a limited edition blue Tanda Zap acne spot treatment device, from which a portion of proceeds will be donated to STOMP Out Bullying™. The limited edition blue Tanda Zap device will be available for $49 for Back to School 2012.
For more information about the Zap Bullying Campaign, please visit www.Facebook.com/Tanda. For more information about Tanda and the Tanda Zap device, please visit www.Tanda.com.
ABOUT SYNERON BEAUTY: The Tanda brand is part of Syneron Beauty Ltd., a wholly owned subsidiary of Syneron Medical Ltd., the global leader in aesthetic devices. The company is dedicated to the development of innovative, high-performance beauty treatments, empowering users with professional level solutions for at-home use.
ABOUT STOMP OUT BULLYING™: The leading national anti-bullying and cyberbullying program for kids and teens is a signature program of Love Our Children USA, the national nonprofit leader in fighting violence against children since 1999. Created in 2005, STOMP Out Bullying™ focuses on reducing and preventing bullying, cyberbullying, sexting and other digital abuse, educating against homophobia, racism and hatred, decreasing school absenteeism, and deterring violence in schools, online and in communities across the country. It teaches effective solutions on how to respond to all forms of bullying; as well as educating kids and teens in school and online, providing help for those in need and at risk of suicide, raising awareness, peer mentoring programs in schools, public service announcements by noted celebrities, and social media campaigns. www.stompoutbullying.org

More From MusingMom6
MusingMom6 Recommends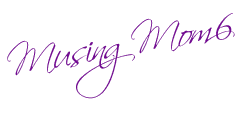 Disclaimer:
From time to time I will share information about products and services I recommend and/or use. Assume I may be affiliated with these products or services. For more information read my
Disclosure Page