I decided this year to be more purposeful or intentional in my actions. I've always tried to be an intentional parent, even before it came into popularity. Interestingly, I found Inspired to Acton, which is for mothers. I've been impressed with how the Personal Mission Statement ebook is laid out and the prompts are amazing! I want to share some bible verses used to inspire you to find your personal mission statement. We each are created for a purpose. God knew each of us from the beginning and has a plan for our life. We might get lost or stray a bit, but ultimately all we have to do is open our hearts to Him. Letting Him guide our actions and steps makes our lives so much more than we ever thought before.
Ask for wisdom. God loves to answer this prayer, particularly because it is so rarely prayed.
We need guidance, the best way for God to reach us is through wisdom. It takes wisdom to know when to stop, start, turn, often times we hurt people we love because the wisdom needed is not there. Any time we put someone else above our family, even a friend, we are not using wisdom. To be wise we have to know that certain things will hurt the people we love the most. Being wise tells us that our actions are dangerous, perfect or on the right track. First and foremost always put God and your spouse and children ahead of anyone else. To do otherwise could be fatal to your family.
The wise lack for nothing. The foolish, meanwhile, cannot make good use of anything. 1 Kings 3:4–13 Psalm 119 Mark 6:30–34
Have you ever known one of those people that no matter what you do to help them they make a mess of things? I had a friend like that once. She would half listen to anything told to her, then couldn't figure out why her life was so miserable. She was foolish. She refused to accept the wise advice of people God put in her path, even her mother could not get the point across. Foolish people make foolish choices that hurt themselves and others.
"Whoever finds their life will lose it, and whoever loses their life for my sake will find it." (Matthew 10:39)
Let go of every idea you had about what you wanted your life to be. No more childish goals. No more foolish ideas. Let go of everything. Be a blank slate and let God give you the wisdom to follow His guidance.
Remember, his strength is made perfect in our weaknesses (2 Corin.12:9)
Until we depend only on God, we are fighting Him and His plan. It might not look great at the beginning, we have to die of self and our own ideas. Be completely empty so He can fill us. We might get something's we want, but everything we need. Needs have to take front and center. Sometimes what we think we need and what we really need are different. Let God show you what you need.
Finally, be strong in the Lord and in the strength of His might. Put on the full armor of God, so that you will be able to stand firm against the schemes of the devil. For our struggle is not against flesh and blood, but against the rulers, against the powers, against the world forces of this darkness, against the spiritual forces of wickedness in the heavenly places. Therefore, take up the full armor of God, so that you will be able to resist in the evil day, and having done everything, to stand firm. Stand firm therefore, HAVING GIRDED YOUR LOINS WITH TRUTH, and HAVING PUT ON THE BREASTPLATE OF RIGHTEOUSNESS, in addition to all, taking up the shield of faith with which you will be able to extinguish all the flaming arrows of the evil one. And take THE HELMET OF SALVATION, and the sword of the Spirit, which is the word of God. With all prayer and petition pray at all times in the Spirit, and with this in view, be on the alert with all perseverance and petition for all the saints, and pray on my behalf, that utterance may be given to me in the opening of my mouth, to make known with boldness the mystery of the gospel, (Ephesians 6:10-14, 16-19 NASB)
We really are fighting for our lives. Satan wants people to follow his lies and deception. This passage tells us we need:
Righteousness - the quality or state of being just or rightful.
Faith - belief that is not based on proof, confidence in a person or thing.
Salvation - a source, cause or means of being protected from harm.
Holy Spirit - second person of the blessed trinity, advocate between God and the earth.
Prayer - a spiritual communion with God, or an object of worship, as in supplication, thanksgiving, adoration, or confession
In all of these specific items that we are told are necessary to fight the temptations of the devil, none of them are things we can acquire from ourselves. We have to receive the inclinations from God. We can't gain anything but insight to let God be in control from anyone else but Him. God will put people in our lives to guide us to Him, but not to give us anything, but understanding. We alone have to put on our armor, let go of our ideas and trust God. For He alone is good. He alone is our refuge. He alone is our peace, hope and joy. There is not one person or thing on this earth that will give us what God can.
Proverbs 16:9 "A man's heart plans his way, But the LORD directs his steps."

Psalm 37:3-5 "Trust in the LORD, and do good; Dwell in the land, and feed on His faithfulness. Delight yourself also in the LORD, And He shall give you the desires of your heart. Commit your way to the LORD, Trust also in Him, And He shall bring it to pass."
God hears our hearts. If it is good for us, He will make it happen. But, He will only give us things that are good for us. We are weak, we don't always know what is good for us. We might think today that something Is all we need, only to find out later, it was the worst idea we had ever had. Let God form our desires into light or darkness. Then move only towards the light. We can acquire things that aren't good for us because we don't listen to His nudgings. God want us to use our "free will" to choose Him.
My Mission Statement can be found HERE. I've been through a lot in my life better than some, worse than others. I've had a long road gaining wisdom to make the hard decisions in my life. No matter how bad it appears to hurt, God is the answer to all I need.
Will you be making a Mission Statement of your own?
Leave me a comment letting me know.
If you create one link it back here.
More From MusingMom6
MusingMom6 Recommends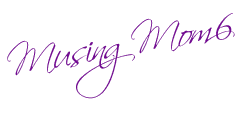 Disclaimer:
From time to time I will share information about products and services I recommend and/or use. Assume I may be affiliated with these products or services. For more information read my
Disclosure Page