My prayer for quite sometime has been that I and my family have unity to God's Will. I have for a long time realized that God's way is the only road I need to be on.
I pray hourly, daily, monthly, that I am doing what He would want me to do. Ultimately the life goal is to meet the masters face and be in the protection of His love. So how do I do that? By being the person He created me to be. I can't be anyone else but me. Even in all my un-perfectness, as long as I do the best that I can to follow His commandments and stay on course, I'm doing His Will.
Let your eyes look directly ahead
And let your gaze be fixed straight in front of you. Watch the path of your feet
And all your ways will be established. Do not turn to the right nor to the left;
Turn your foot from evil. (Proverbs 4:25-27 NASB)
Now being honest about everything can be hard to do. But what is it we teach our kids about telling the truth when they are young? The truth will hurt much less than the pain of the lie.
And about loving each other? If you are a "Christ-Follower then you should be telling them, Jesus lives in our hearts, so treat each other as if you are talking to Jesus. Now there aree some that say they believe but they speak with the lies and deception of the evil one. What then? Guard yourself and everything you have from these people. For they will lie and cheat to take it from you. Keep your distance. But remember to pray for their conversion. Even God hopes Lucifer will accept his sins, yet fights for His children that ask for His protection.
Do not let kindness and truth leave you;
Bind them around your neck, Write them on the tablet of your heart. So you will find favor and good repute In the sight of God and man.

Trust in the LORD with all your heart
And do not lean on your own understanding. In all your ways acknowledge Him,
And He will make your paths straight. (Proverbs 3:3-6 NASB)
More From MusingMom6
MusingMom6 Recommends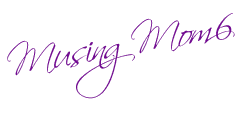 Disclaimer:
From time to time I will share information about products and services I recommend and/or use. Assume I may be affiliated with these products or services. For more information read my
Disclosure Page