You here it everywhere in the blog world.
You have to have a niche.
What I'd your niche,
Stay within your niche.
I do, I am the niche!
I am a mom blogger!
I'm not a food blogger.
I'm not a review blogger.
I'm not a fashion blogger.
I'm a MOM blogger!
Moms have to be a "Jack of All Trades"!
If I only cook, who cleans up? And what products did you use? What hasn't worked and why? I want to share it all.
The answer? A mom blogger. We have our hands on the pulse of what's happening in our homes. The trends in children's literature, games, topics on the lips of the kids today. Add to that, a lot of us are trying to find ways to stay home and make a few dollars, because we want to be available when the kids are home. my kids are growing up. I hope to be sharing information when my grand babies arrive and as they grow. Ooh, wouldn't it be cool if my daughters would blog? Or they could review on mine if they don't want the hassle.
I review products and services I use or recommend because I've tried them. I know most of us want honest, real life applications to learn from and about.
I share a recipe, then show you where to find great gadgets for your kitchen. Or how to organize your kitchen. Then I might share a funny story about the kids cooking. this is just one way I share my experiences with you as a mom.
It's all in the day and the life of a Mom (Blogger).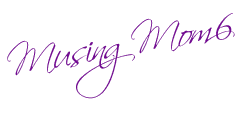 Disclaimer:
From time to time I will share information about products and services I recommend and/or use. Assume I may be affiliated with these products or services. For more information read my
Disclosure Page