Advice for new mothers is not in short supply. I personally like the tidbits of information that can be derived from a seasoned mom. These are thingsni would want my children to know when they become moms. So it's real down to earth and not slot of tech or book taught info.
10 Things New Mothers Need to Know
1. Get your rest. You are allowed to sleep when the baby sleeps. Not getting enough rest can cause your milk to not let down if breastfeeding. If bottle feeding you need to let your body heal.
2. It's OK if the only thing you accomplish in a day is to; Make your bed, shower, brush your teeth, eat and get one load of laundry done.
3. Shower, get dressed, brush your teeth and eat, everyday.
4. Don't wake the baby in the middle of the night to feed. If they are sleeping long during the day and up all night, you might need to make some adjustments to the day time schedule. Waking them during the day rather than at night is always better. They will wake up when they need to eat.
5. Swaddle a cranky baby. If colicy, add a folded up receiving blanket across their belly and wrap them snuggly. The blanket will add needed firm pressure to help ease the belly ache. You can add to the comfort by warming the blanket in the microwave or dryer. Over the counter colic drops, even the homeopathic ones are beneficial.
6. I recommend using a baby sling. I liked that I could keep a baby comforted and still make a drink or prepare a snack for the older myself or other children.
7. Whether breast or bottle fed, some babies need that extra sucking a pacifier can provide.
8. Research circumcisions. Don't just follow the crowd.
9. If a babies skin is cold to the touch, they need warmer clothes or a blanket. When you keep them warm they are most comfortable. Let the baby guide you not the weather.
10. Love them! Everyone is unique. Each child with have different qualities.
Do you have a mom tip that is not listed? I'd love to hear it. Leave a comment, something you learned that you would want to share.

More From MusingMom6
MusingMom6 Recommends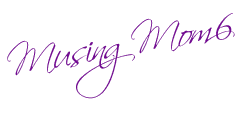 Disclaimer:
From time to time I will share information about products and services I recommend and/or use. Assume I may be affiliated with these products or services. For more information read my
Disclosure Page