One of my favorite past times is to read different philosophy's on organizing your home and your life. I ran with break neck speed to get a chance to review this book by Stephanie O'Dea. Her website is amazing but lets get to the nitty gritty about the book.
Quote from the publisher:

"Totally Together: Shortcuts to an Organized Life" is the indispensable guide to organizing a busy household so anyone can have a tidy and tranquil home in just minutes a day.

New York Times bestselling author and popular mommy blogger Stephanie O'Dea provides a practical, how to guide in a weekly calendar format  to make home organization and time management a snap.
First I like her style, she is like a kindred spirit. If you are a Steven Covey fan you will enjoy the foundation of this routine. She uses Steven Covey's 7 Habits of Highly Effective People to set up her day/week/month tasks to stay "Totally Together".
I'm not sure I will ever reach "Totally Together" bliss, but I will strive everyday to master my plan. Like me she has tailored the principles or ideas that she finds true to herself. I am not the OCD clean freak and she even says you don't have to be to have a clean home. YAY for me! I've been saying the same thing for years. I feel validation!
OK, so back to the book. In Totally Together: Shortcuts to an Organized Life, Stephanie has broken down the days chores into 7 things that must be done and gives a brief description of how to combine things to have things tidy. Each of these 7 things can be done by any household member and she breaks down in a later chapter what ages children can be given chores. What makes it even better, this system can be used by a single person, childless couple or empty nester. No excuses from any generation or lifestyle that this won't work for them.
She continues further to break down the chores to weekly, monthly, yearly and seasonally so it is much easier to manage getting it all done. The next section is the calendar so you can break down the tasks by days, weeks and months. My oldest is getting married next year and thought that the way it is laid out would be do-able for them to start their routines. I'm really hoping she uses it. She has been somewhere on the ADD scale since a young lass. If it is simple to do she will enjoy the book. (Yes, I'm going to give it to her. I've been playing scavenger hunt to find things that will make her transition to out of the house adulthood a little less stressful.) I want my kid to be "Totally Together" when she ventures off on her own.
All people and every family are wired differently, that is my problem. I can not ad-hear to one plan. It doesn't work today but next week it would be great! I am hoping to try this one out for a period of time and see how it fits my life. Stephanie keeps it simple in this easy to follow home journal. It is not heavy laden with long explanations.
So what is your achilles heal when it comes to daily duties? Do you have a plan that works?
To Buy: Totally Together: Shortcuts to an Organized Life (Berkley Trade Paperback Original; Aug 2, 2011)  $15
To Win: Follow the directions on the Rafflecopter entry form to have an opportunity to win this book for yourself.
Leave a comment on this post for 2 entries into the contest:
**What is your greatest organizational challenge?**
Leave your comment below and go to the entry form,
you've completed your first option for the contest but you have to fill out the Rafflecopter form.    Click Here
Good Luck and Enjoy getting Totally Together !  :)
Let me know if you are going to take the challenge.
All comments will go into a monthly draw - prize to be announced
More From MusingMom6
MusingMom6 Recommends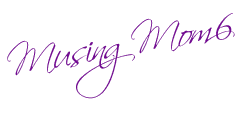 Disclaimer:
From time to time I will share information about products and services I recommend and/or use. Assume I may be affiliated with these products or services. For more information read my
Disclosure Page