RemembeRED - By heart
When I close my eyes and think back to being a child, asking what stands out as the strongest memory. It would be going to church. I was not raised catholic so we had our bible school time. Nothing has made a deeper impression on me as those songs we sang expressing in child-like fashion, "Jesus Loves Me this I know..." or "This little light of mine". I'm so glad that the catholic churches have started using more kid friendly ways to share God's word.
When I'm lonely or sad. If I can't seem to drag one more positive thought about life, I fall back here. To those songs and what they mean. So often people seem to be unable to make the connection.
You must love like little children to enter the kingdom of heaven.
Some how, I've always known how to do this. I wanted to share this with my kids and my husband. This intimate part of my life seems illusive to them. It is weird to find something so simple so difficult for others to understand. I'm sorry, I don't understand. Sadly, they share this thought.
All my life I've talked to God when thinking. Rather than talk to myself in my thoughts. I have an open line of communication this way.
The memoir prompt asked you to dig deep to find what, from your childhood, you still know from heart.
Provided by The Red Dress Club
More From MusingMom6
MusingMom6 Recommends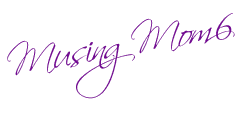 Disclaimer:
From time to time I will share information about products and services I recommend and/or use. Assume I may be affiliated with these products or services. For more information read my
Disclosure Page