I'm absolutely lovin' the options of these planners!
I've had a hard time picking between the Life_Time and the Family_Time. Both offer features I like. 
Dot.Mine offers 3 types of planners so you can have pages you need. I really like the 17 month format. It allows you more flexibility to plan around the school year and the calendar year. I always sit down with my planner and put the school calendar schedule in so I know when the state tests are, snow days, holidays and breaks. It is so nice to know when I make an appointment that I won't be interfering with tests and some of your doctors offices close over school breaks. My dentist is always off to stay home with his kids.
The Time.Mine  6 x 9 inches

Standard calendar features and fashionably functional for the active student or individual.

Family_Time.Mine  8 1/2" x 11" or  5 1/2" x 8"

I love this feature! Inspirational and humorous quotes, margins offer "tear-out" lists, & note pages to make errands a breeze!

The plastic coil, spiral bound, back pocket holds papers in place. The fun colorful reminder stickers make using the unique master schedule / planning guides a quick way to check what is happening that week.

Life_Time.Mine  7 x 9 inches

The unique master schedule and planning guide to keep home and family on track. I'm hoping to maximize the personal road map and life organizational pages. I'm really, really trying to redirect my life. 
To Buy:    DotMine Online     or      Find on Amazon
   (Use those Gift Credits
)          Prices vary by style: $13.99 - $21.99 
A contest ending 10/8/11 @ 12:01am to win a Family_Time Planner is HERE 
Disclosure: I received a planner for free in order to try the product and form an opinion for this review. I was not compensated in any other manner. The opinions expressed above are my own and any claims should be verified on the sponsor's site.
Thank you to the sponsor for allowing me to review their products!



More From MusingMom6
MusingMom6 Recommends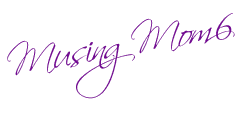 Disclaimer:
From time to time I will share information about products and services I recommend and/or use. Assume I may be affiliated with these products or services. For more information read my
Disclosure Page