One of my Blogger blogs was mostly faith based. I've tried to incorporate that here. I found it difficult to separate my faith from my general ramblings. I am the kind of person that doesn't set aside time for God. I include Him in everything I do. I talk with Him all day long, rather than put a time limit on prayer or scripture.
I heard of faithful business owners that are known and loved because you can see their faith in everything they do in their business. What about putting those things into practice for your blog? Might your blog be or become your business?
Do You Have "Faith" in Your Blog?
Here are 10 things you can do to bring your faith into your business.
Praying for your business. I pray for guidance, in thanksgiving and to understand what I need to do.
God's ecomony. I am honest about money. I'm not looking to make myself a millionaire, nor would I intentionally sell you something you didn't need or lie about the quality of an item.
Your calling. I know God has a plan for me. I know there is a purpose for me to be blogging, I pray I'm doing what He wants.
Your spiritual gifts. What are your strongest spiritual gifts? Fortitude? Giving? Leadership? Mercy?
Managing your time. I struggle like everyone else with this one. Moderation is the key and you need to find the organizational tool that works for you.
Business by The Book. Don't lie, cheat or steal. It is the simplest thing to do, yet all too often it is the least heeded of suggestions.
Your mentors. Very important, you want to learn from people who are doing business by the book.
Overcoming personal obstacles. I have a hard time speaking in public. I get nervous and feel like everything I do is being scrutinized. In the beginning of my blog I was afraid to say too much or too little. I'm overcoming that obstacle that made writing difficult.
Pursuing excellence. Always do your best. We are not "perfect" and there is always room for improvements.
Sharing your faith. If you are not comfortable sharing in a verbal (or written) then lead by example. Showing your faith in an outward way is good,also.
What do you think of these things you can do to bring your faith into your business? Do You Have "Faith" in Your Blog?

More From MusingMom6
MusingMom6 Recommends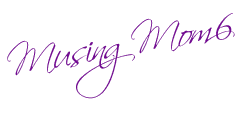 Disclaimer:
From time to time I will share information about products and services I recommend and/or use. Assume I may be affiliated with these products or services. For more information read my
Disclosure Page