I had to share, seeing how I love books and blog books have been my latest "phase".  How to Blog, Vlog, Tweet, and Facebook Your Way to a Dream Career at Home, isn't this what we a mom bloggers hope for? I don't care about being rich, I just want to earn some cash and enjoy being home and work around my own schedule.
If you pre-order it before July 26th, you will gain access to an exclusive live webinar August 16th at 7 pm EST where both Colleen and Audrey will candidly share the secrets of their success.
If you would like to have a chance to join in on a webinar with the authors,
Colleen Padilla and Audrey McClelland, Go to Book Perks and follow the directions on the screen.
I have my pre-order set up for my iPad. I have signed up for the webinar and it is on my calendar so I won't forget. I'm anxious to see what the book and webinar have to offer us newbie mom bloggers. What about you?
If you miss the webinar offer or just want the book, you can order The Digital Mom Handbook
straight from Amazon.
Do you have any favorite books that you would recommend to me about this crazy thing we call blogging? I'd love to hear what you read to learn.
More From MusingMom6
MusingMom6 Recommends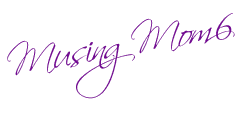 Disclaimer:
From time to time I will share information about products and services I recommend and/or use. Assume I may be affiliated with these products or services. For more information read my
Disclosure Page