Ruby for Women Blog featured one of my posts this month.
I participate in the Ruby for Women Community. It is full of faith, hope and it has been a blessing to participate with this group of (mostly) women. There are shopkeepers, authors, poets and everyday people sharing and caring.
Ruby for Women was started in early 2009 as a  magazine for Christian women of all ages and stages of life. In March of 2010, Ruby for Women acquired new editorial leadership when Nina Newton became Sr. Editor. Throughout 2010, the ministry of Ruby for Women grew beyond the online ezine, that is now published monthly and is available as a FREE resource, to include a blog that is updated daily as well as a community website where women interact with one another, discussing topics of interest to all women.
Ruby for Women continues to provide women of all ages and stages of life with great information, advice, inspiration, and encouragment in their lives as women, wives, mothers, grandmothers, sisters, daughters, and friends. You can find groups in which to participate on topics such as parenting, crafting, cooking, health and wellness, work-at-home business information, blogging, scrapbooking, and so much more. You will also find a group in the Ruby for Women community where we uphold one another as we share our prayer requests with our new friends.

More From MusingMom6
MusingMom6 Recommends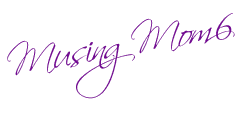 Disclaimer:
From time to time I will share information about products and services I recommend and/or use. Assume I may be affiliated with these products or services. For more information read my
Disclosure Page