Makobi Scribe is partnering with Amy McCreedy, to offer a Free Webinar on Positive Parenting Solutions. If you haven't been to one of these webinars you should run and grab your seat now! The class is set for Thursday, July 28thfrom 9-10 PM EASTERN Time.
The purpose of this session is "GET KIDS TO LISTEN WITHOUT NAGGING, REMINDING OR YELLING"  Being a mom of 6 is hard enough without constantly asking someone to do something. I've not gotten to attend a class  yet but I have read many wonderful recommendations by others who have attended. I'm going to try to catch this one myself.
Hurry over to Makobi Scribe and see what this great class is about and learn to be more affective with your kids. The quality time that you have been waiting for is just around the corner. Learn these great tools at Positive Parenting Solutions
Getting Kids to Listen without nagging, reminding or yelling  
Brought to you by Angel Wings Friends would like to help you get your message noticed.
More From MusingMom6
MusingMom6 Recommends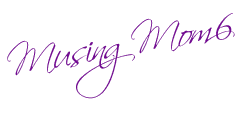 Disclaimer:
From time to time I will share information about products and services I recommend and/or use. Assume I may be affiliated with these products or services. For more information read my
Disclosure Page