I have to tell you it has been nuts! I will start with the good news first because I have to keep focusing on that one thing to get through the days right now.
Some of you may or may not know, my husband is a pilot. Actually, he would correct me, he is Aviation Department Manager for a large company. That being said, he just flies the planes and does all administration duties. So any way, he was given a gift for being instrumental in the selling of a couple of airplanes. Since he has complete access to an iPad through work, he gave his gift to me! : D I'm writing this post on my brand new iPad. Mine, I don't have to share it, I can hardly believe it!
I'm still trying to decide what kind of sleeve, screen and case to get, anyone have any suggestions? And, it is the white one
we talked about getting an iPad when they first can out. I told my husband we needed the 32 gig, wi-fi and then when AT&T started offering the data plan that was a no brainer. You know, he argued with me! We don't need wi-fi! Guess what, when he started researching for his EFD (electronic flight deck) everyone told him exactly what I said! See he should have just listened to me to begin with. (sheepish grin) The FAA has approve iPads as tools acceptable for the pilots to use in place of charts and maps that previously took up a lot of room and they can save a few trees in the process.
So for the craziness, hubby was going to be gone most of the month with trips. Back to the Aviation Department Manager thing, he is currently the only pilot. They need 3 minimum to run the department affectively. He has been sick this year like never before, re: too much work for one guy, and will now be undergoing the "knife". He had 2 severe infections battling in his system from January through April. He even removed himself from flight status for a month. So anyway he sees the surgeon on Friday.
I'm not sure what's going on with me I've had worsening of my back pain again. Extremely aggravating. Day 5 is at least better than day 1 & 2. Last night my muscles in my lower back were knots. Literally, you could feel them above my waistband.
We are involved in some ugly legal stuff, something that happened to one of our kids. in short, we are at 4 years and waiting for a trial. We were contacted a few weeks ago that a new "special" prosecutor has been assigned to the case. Since this has taken a long time due to an appeal, followed by another appeal, followed by an Indiana State Supreme Court ruling in our favor. Blah! The feel good part of "having something good come out of something bad" really hasn't soaked in. It all still sucks. Our daughter and our family will have to live with the horrible effects of this tragedy for the rest of our lives.
School will be starting in a few more weeks. I'm hoping this school year goes smoothly. I need some calm, peaceful, happy days.
Oh! My header is a train wreck. The WP and Genesis updates are not making me a happy blogger. I've sent an email to a designer I've interviewed before the update and still waiting. I may have to change to someone else.
**UPDATE** Yeah! I finally fixed it! I still want to make some changes. I searched again for the header height in the editor and found one I had not changed.
Any references would be gladly accepted. I'm ready to make some changes.
Hopefully it will all get squared away and I can find something to help my back. Until then...

More From MusingMom6
MusingMom6 Recommends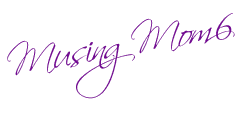 Disclaimer:
From time to time I will share information about products and services I recommend and/or use. Assume I may be affiliated with these products or services. For more information read my
Disclosure Page