from our Original Apron Line. This is one of our All-Time Best Sellers
and we have a warehouse full of them.

What a fabulous way to look good while you are cookin' !
at 50% off they are almost a steal!
Run, don't walk to get in on this sale!
These cute little aprons are great for gifts. Wedding? Birthdays?
Start Christmas shopping early and get one for all the special people in your life.
Hurry while supplies last! And they won't last long!
More From MusingMom6
MusingMom6 Recommends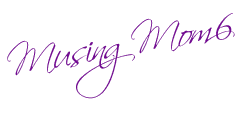 Disclaimer:
From time to time I will share information about products and services I recommend and/or use. Assume I may be affiliated with these products or services. For more information read my
Disclosure Page