Simply Stacie has recently been having blog and hosting problems. You can read her posts:
I wanted to share this with you if you haven't heard about it and help you with the mechanics of what to do to save you some problems. It is important to us to have our sites working when people visit and down time can mean a lot of headaches. 
I have removed my "Grab Boxes". One of the issues Stacie discusses is hosting your button on your blog. The other alternatives have draw backs as well. If you use Photobucket or some of the other free photo sites they will ask you to upgrade to a premium service if you pull too much on their servers.
I would like to offer you a quick way to host it from your site without pulling on any ones resources too much. I've created a tutorial on creating a blog button.
Below is the code for a simple button:
Copy the code above into a document, text file or your gadget/widget on your blog.

Right click on the button. This will bring up a list of options.

Click on Save as.

Save the .jpeg or .png file to your computer.
Please don't "Copy link address" it will defeat the purpose of not draining on resources.
Upload the saved file to a photo sharing site or if you have a WordPress blog you can save it to your media library. What we have done is set up the button to not pull from valuable resources for either party.

Now find the URL or direct link to the picture.

Copy and Paste it into the code above that says "http://YOURPICHOSTING.JPG" (Leave the quotation marks)

Copy the Home URL of the buttons website owner.

Paste it into the space "http://YOURDOMAIN.com" (Leave the quotation marks)
You have now created a blog button that only sends people to another site and does not drain any ones resources. If you have any questions let me know.   
This should be the end coding results.
<img alt="Your Alt Pic Name" src="Direct Link to Your Pic" /></a>
More From MusingMom6
MusingMom6 Recommends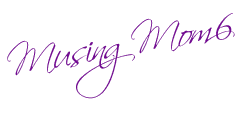 Disclaimer:
From time to time I will share information about products and services I recommend and/or use. Assume I may be affiliated with these products or services. For more information read my
Disclosure Page