I was blessed to meet these two women while blog hopping and they are my first book features. Please join me in learning a little about what they are doing and why. Vivian and Lisa are great to talk to, I've shared a few tweets and emails during the process.


Positive Parental Participation
 Vivian Kirkfield is an award-winning author, educator and mom of three. Her books are used in her local school system to assist children in learning activities.
Planet Weidknecht - Living in my own little world 
Author Lisa Weidknecht created Raindrop Dreams and E is for Emotions for her daycare kiddos.
Do you know a woman entrepreneur, author or shop owner that would like to be featured? Email Me
Currently, Musing Mom Media is a registered site. To leave a comment you will need to register. 
I will be posting information about starting a business, internet marketing, etc. I have scoured for good information to learn more and want to share all the good stuff with you.
More From MusingMom6
MusingMom6 Recommends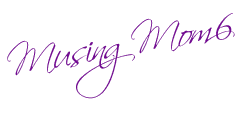 Disclaimer:
From time to time I will share information about products and services I recommend and/or use. Assume I may be affiliated with these products or services. For more information read my
Disclosure Page