In a lot of ways this is a general life in progress kind of statement. No one really knows what tomorrow will bring. So the next minute is "up in the air" as to what will happen. Each action has to force a reaction. The trick is to not have the reaction be negative. The more positives fall from the air, the more settled you feel giving the illusion of control and plans going the way we want.
When things are moving along on the path you want to be, it doesn't seem up in the air at all. Then, one day it hits you...
In July of 2005, we felt like life was going where we needed it to be. Was it perfect? By all means no! Perfection in real life is truly unattainable. Just don't tell a perfectionist, it is incomprehensible to them.
We celebrated our fifteenth wedding anniversary. You know this has to be big, there is a Hallmark card just for this event. Other than me being mentally drained and desperately needing a few days away from home. No "Mom, this." or "Mom, that." Just peace and quiet. Alone with my man. No phone chirping a text or email. We needed to get down to some relationship building. We had reached a point where we just needed us. Then the bottom fell out from under us and we got sucked into the abyss.
Once school started in August, we were going to get away. We had not done this, well ever. That's when our lives got thrown up into the air and the pieces are still landing. Yeah, seven years later we are not grounded again, not yet.
Things are coming together. The damage that has come about as a result, I'm not sure if life will ever be the same. I know my opinions have changed drastically about people and family in general since this happened. The old saying, "When things get rough, you find out who your friends are." is so true. My little family unit is all that is left intact. No parents, aunts, uncles, sisters, brothers, cousins, etc have been there. If anything, they found reason to make fun of the situation. I'm glad that my marriage and children have remained intact. That is the most important anyway.
I know that life will get moving in the right direction again. It is now, slowly climbing out of the hole that sucked us in.
This is a post participating in
Dishwater Dreams » Writing Workshop
"Everything is up in the air right now." How does this describe a time in your life?
More From MusingMom6
MusingMom6 Recommends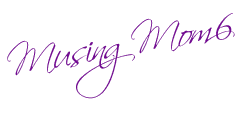 Disclaimer:
From time to time I will share information about products and services I recommend and/or use. Assume I may be affiliated with these products or services. For more information read my
Disclosure Page