Hi there!
My name is Barbara Ling, Mama Bear, and I was most humbled indeed when @MusingMom6 asked me to guest post about a rather unique adventure on my site, entitled:
This is my direct link that allows readers to ask me anything they'd like...anything at all.
Whenever someone fills in the form, I receive an email with the question!
And that, of course, gives me content ideas and also ways that I can share my expertise, knowledge and generally all-around controversial ideas. 
It's a very easy, very simple setup to do, and is a great way to encourage interaction between you and your readers!
Here's what I did, and what you can do too.  And the best thing is, the entire set up is free!
---
Step 1.)  Download the Secure Form Mailer Plugin for Wordpress.
It's available here.
This will allow you to create a form like: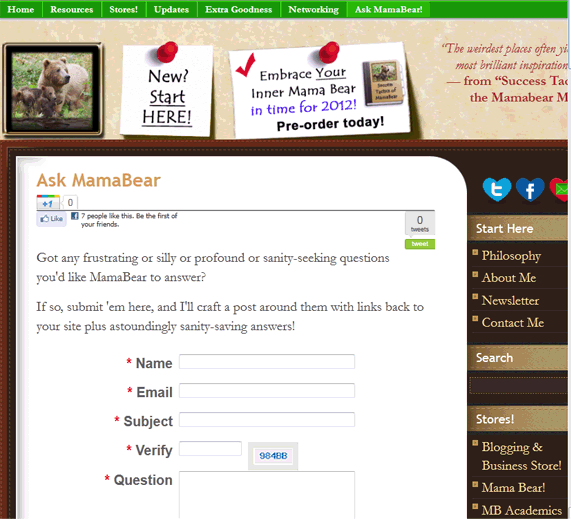 ---
Step 2.)  Decide where you want to place your"Ask Me A Question" button
You can use an image, or a menu item, or whatever you think works best for your theme!
I put mine at the top of my site like so:
This was accomplished for free by using the Wordpress Plugin Menubar.  It's a great plugin that lets you define cascading menus any place in your theme!
---
Step 3.)  Start a daily/weekly column for your questions on your site.
You might also want to consider adding a special category for your posts; I call mine, Dear Mama Bear.
And then, simply start posting the questions and answering them to the best of your ability!
Questions can span all over the universe.  Some of mine include:
As the days go by, you'll find yourself developing your very own style that simply cannot be imitated anywhere else online!
It really helps build your credibility and your willingness to go the extra mile!
And that, of course, can only be described as a Very Good Thing Indeed.
Wouldn't you agree? 
Parent powerfully,
-- Mama Bear
More From MusingMom6
MusingMom6 Recommends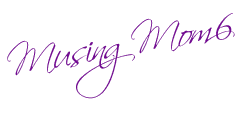 Disclaimer:
From time to time I will share information about products and services I recommend and/or use. Assume I may be affiliated with these products or services. For more information read my
Disclosure Page