Growing up is something we know will happen.
We miss the tiny sweet babies and the hugs from little arms and hands with tiny fingers curled around our own.
I read a post from Living in La La Land Blog. Her baby is no longer a baby. I can totally relate.
My last 2 are boys. One just turned 11 and the other is 9. The 11 yr old starts 6th grade in the fall. The first five are all taller than me, I'm 5"2' so thats nit saying much. The youngest was a preemie and has a little while to surpase me. I prayed that all my kids would be at least of average.
Above are my boys, the last of my kids. These two chubby cheeked boys are now 11yr and 9yr. It is hard to believe they are that old! Little Buddy (top) and Mongo (bottom) are getting too big, too fast.
One day they will be graduating high school and I'm still not ready. But it will come any way whether I want it to or not. Time passes so fast, in the blink of an eye, there grown and gone. Hopefully not too far!
More From MusingMom6
MusingMom6 Recommends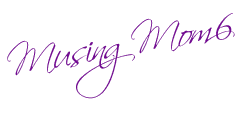 Disclaimer:
From time to time I will share information about products and services I recommend and/or use. Assume I may be affiliated with these products or services. For more information read my
Disclosure Page