You should all check out MyView.
I take short surveys, a couple a minutes a day, and earn cool rewards (Amazon, iTunes, Visa, etc.) Check it out!
I have seen several bloggers talk about survey sites. I found this one through one of them.
This Mama Loves Her Bargains has posted several companies. I have signed up for a few. I'm not a Survey Junkie. I can not do more than a couple a day so I do pass on some.
Partly because I don't have the time and I want to find the ones that are more suited to me.
I think that not all surveys are created equal and this is one of the better ones.
For what it is worth, I have not stated my occupation as homemaker for all of them either. Since I am trying to make blogging and my craft/sewing into a business venture I have started I am self-employed.
So far My View has taken a better stand with that occupation in mind. I have earned quite a few points over the initial basic info points. Just filling out the basics gave me points for a $25 Restaurants.com gift card.
That is not too bad for a start!
I you are interested, visit My View, sign up and get your basics filled out and get your gift card!
More From MusingMom6
MusingMom6 Recommends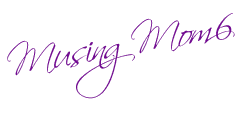 Disclaimer:
From time to time I will share information about products and services I recommend and/or use. Assume I may be affiliated with these products or services. For more information read my
Disclosure Page