Today this the next to last day of school. Wednesday is the last day then summer break. I' m not ready.
Our son with Asperger's will start counseling over the summer. He needs that connection. He has had a social skills group to participate in during the school year.
Our oldest still has not set a date for her wedding. Other than some candy molds we haven't purchased anything for the wedding. We have been dress shopping. She will look beautiful. The styles she has tried on are amazing on her.
We have had some trouble in some other areas with 2 girls and another with severe allergies. Poor thing has had an ear drum rupture. I have to admit, I'm looking forward to getting rid of the cats. I'm allergic and the daughter with the ear trouble is most likely allergic. The sad thing, the animal lovers are allergic, they just have not had it to the same extent. Yes, you guessed it, we have an animal feud. I think people are more important than any animal on the planet. If they have to go, they have to go.
Stay tuned, I will report on the saga as more news is available.
Happy Summer! I need a vacation!

More From MusingMom6
MusingMom6 Recommends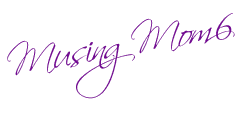 Disclaimer:
From time to time I will share information about products and services I recommend and/or use. Assume I may be affiliated with these products or services. For more information read my
Disclosure Page