I have always been a stay at home mom. I had planned to go back to work part-time. I felt I needed it to maintain balance between me and being a mom. To keep my personal identity. Our oldest having apnea of prematurity put a stop to that. My mom hormones kicked in and there was no way I could leave her in someone else's care. Not to mention the cost of a babysitter and my paycheck. Why work to support someone else's home. It was a "no brainer".
Since I started blogging it has brought up some very important thoughts about me and who I am. I have LOVE being home with my children. I would not replace those days for anything. I did not accomplish the goals I had set for them or myself. I have tried and succeeded in some but not really #momfail either. My life took some turns I had not anticipated nor planned.
The kids getting older and all being in school had prompted me to start thinking about things I could do for work. Let's face it the economy is making it more and more difficult to make ends meet. Since I was in the car accident working outside of the home is not possible. I must have flexibility that can not be provided in the work place. I always crafted and read books. I'm a big proponent of self-improvement and growing spiritually. So these would be easy for me to pick up and do to contribute to the income needs of our family.
I've always had to do everything myself. Not because I would not ask for help, because I was told I didn't need help. So I've had a bit of an obstacle laden life. I'm making progress at getting my husband and kids to understand that I'm not the maid. They have all had this tendency, which I can't figure out why. I've never been the, "Oh, let me get that." kind of parent. I want my children to grow to be independent and confident. I know what my husbands deal is, he was brought up that way. And he travels for his job and spends too much time being waited on at restaurants and hotels. Boo!
My challenge in blogging and working on the craft businesses have been that they think I'm ignoring my responsibilities. I just want to beat my head into a brick wall. All 7 of them are perfectly capable to do their share and take part. I've read different blogs about organizing and I've never been able to figure out how "women can do it all". I'm not one to over schedule intentionally. I like a smooth order to my day and I have no desire to run to every seasonal sporting event offered to kids these days. I want to live life! And life to me is not creating athletes. Exercise is good. Sports become excessive. Sorry, to all who think otherwise, but it is my opinion.
When I saw Amanda's offer to guest post and visited her blog I felt she could give some recommend some ideas to my dilemma. She will be featured here as my guest Wednesday. She is a pastor's wife, gym manager and preparing for dental hygienist school. I asked her to write her suggestions to a SAHM planning to start an at home business. I hope you find her suggestions helpful.
What do you think is your biggest challenge as a mom trying to keep some of your personal identity?

More From MusingMom6
MusingMom6 Recommends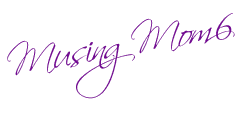 Disclaimer:
From time to time I will share information about products and services I recommend and/or use. Assume I may be affiliated with these products or services. For more information read my
Disclosure Page