This week I will be sharing something different.
I was asked to post some information about a wonderful association for Christian women entrepreneurs.
This new book is being released today!
There are something interesting things to learn this week, I hope you enjoy!
A New Book Shows How You Can Too
Wichita Falls, TX – Today's success-driven culture often puts a pressure-cooker demand on Christian women in business. Countless women struggle to succeed—to be, do, and have it all.
Whether we acknowledge it or not, the way we determine success greatly impacts our lives, according to the newly published book Inspired Women Succeed by Diane Cunningham and Jo Ann Fore.
As they seek to redefine success, the authors challenge readers, "What scoreboard determines true success? Must we be famous? Rich? Well-credentialed experts?"
This Chicken Soup for the Soul®-spirited book features a collection of 40 real-life inspirational accounts that are designed to prove success is an individual experience. "For Christian women, success is inspired from a sense of calling; measured by a loyalty to God in spite of life's circumstances or outcome," Cunningham said.
Co-Author Jo Ann Fore elaborates, "Inspired Women Succeed leads readers on an inspirational journey; a journey which teaches women how to entrust the hard spots of life to a sovereign God who has a plan. The book is about real women doing real life. Through a vulnerable transparency, the stories of this book offer women a permission to be real; to confront the tough issues of life with a new perspective. We want women to reframe life experiences which may have blocked their progress—those same experiences can be used as a catalyst to success."
Authors Cunningham and Fore model authenticity, as intimate details about the tough spots of their own lives are woven throughout a book that consistently recounts the transformation of difficult circumstances into a successful life—success on God's terms, that is.
To arrange for a book signing, interview, or speaking engagement email [email protected]. Inspired Women Succeed is available on Amazon.com, Barnes&Noble.com and at most major retailers.
ABOUT THE AUTHORS:
Diane Cunningham is a Business Therapist, whose calling is to help women grab hold of their dreams and make them happen.  She is the founder and president of the National Association of Christian Women Entrepreneurs, an organization with more than 165 members across the United States and Canada.
Jo Ann Fore is an inspirational author, Writing Coach, and certified Life Coach who is passionate about making a difference in the lives of women. Most noted for her faith-filled messages, Jo Ann mentors both emotionally-wounded women and budding writers.
For a free download of the first chapter, and a chance to win a FREE copy of Inspired Women Succeed visit www.inspiredwomensucceed.com. Each person who downloads a copy of the first chapter during our release week (5/18-5/25) will be entered in a drawing to give away two free copies of the book.
Purchase Information:
INSPIRED WOMEN SUCCEED
ISBN: 9 871450 767804
Price: $14.95       Pages: 264, Paperback
Pub Date: May 2011
www.tinyurl.com/InspiredWomenSucceedBook
The National Association of Christian Women Entrepreneurs was born out a passion to connect women who are ready to create, collaborate, and contribute to changing the world. We gather people and ideas together through online content, tele-courses, individual/group coaching and retreats. Our desire is to unite under a common goal of helping one another to succeed and thrive in business. We are blessed to share in a common faith in Jesus Christ and yet know that we might each choose to worship in a different way.

More From MusingMom6
MusingMom6 Recommends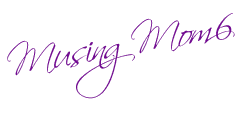 Disclaimer:
From time to time I will share information about products and services I recommend and/or use. Assume I may be affiliated with these products or services. For more information read my
Disclosure Page