Starting today, I am visiting the blogs of all my commenters. My Blog Tour
If you have ever commented on this blog you will get a visit from me. I hope to complete this in the month of May.
I'm working on my blog goals and ironing out the kinks on some new things. But my focus is also to thank the wonderful people who have dropped in and took the time to leave a message.
The Mother's Day Giveaway is well underway and I will be doing some promoting as well.
I have a couple of guest post projects in the works so stay tuned! Oh, and some reviews!
I would also like to invite everyone to visit my Angel Wings Tab in the Nav bar. I have some things planned I hope you will find helpful and interesting.
Grab the Angel Wings Friends Button in the side bar and help get the lists growing!
More From MusingMom6
MusingMom6 Recommends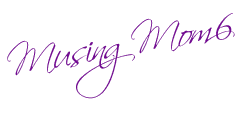 Disclaimer:
From time to time I will share information about products and services I recommend and/or use. Assume I may be affiliated with these products or services. For more information read my
Disclosure Page