To me, your article is wonderful! It is a sad time we live that being a mom is frowned upon. We should be proud to be a mother, it is our ultimate gift to "raise up children".
It saddens me that societies "ideals" are shaping how we view ourselves as women. So much so that even men that are trying to encourage us to show our worth and value from inside the home are bashed for helping. Are these women also resenting that they were made from the rib of Adam? Oh, but I guess religion has taken its hits as well.
We have to work together, lifting each other up to truly be at peace within our our skins. I am happy to be who I am. My obstacles have been put before me by people that want to out me down for my choice. Who are they to decide for me that being a wife and mother is not enough to be considered worthwhile or of value? Guess what, if not for your mother, you wouldn't be here. There have been times passed that women were and have been put down or made out to be less. But the complete equality, as it has been for several decades is and will be our undoing. I am every bit as good as any man on this planet, but I can not do everything a man can do. Simple, that does not make him better, it makes us different.
I've written on this topic before, you can read them here:
1. My Take on the Mommy Wars
2. Have You Ever Gotten One of Those Christmas Gifts?
This is in response to an article written by Stephanie Slater in the Living My Moment Newsletter that was delivered to my Inbox Sunday.

More From MusingMom6
MusingMom6 Recommends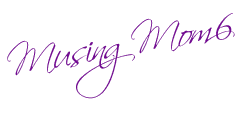 Disclaimer:
From time to time I will share information about products and services I recommend and/or use. Assume I may be affiliated with these products or services. For more information read my
Disclosure Page