I've been trying to decide all day, do I post or not. Well this will be a very different tone than you may have heard.
I am looking forward to the chance to make another year better than the last.
I'm not going to tell you all the fabulous things I will promise you and me to do.
I do have some ideas that I hope you will like.
I do plan to keep blogging and hope to enrich your day.
I do plan to work on my bible study blog. Share the Bible with MusingMom
I do plan to write more on my spiritual blog. Just Another Day In Paradise
I don't have a bunch of lofty goals.
I do plan to work on my organization and family motto.
I do plan to accept that my oldest may be getting married sooner than I thought.
I do plan to keep being the same caring, hopeful woman I have always been.
I hope you join me in my new year of life. What about you? Any thoughts on what you are going to be doing this new year?
More From MusingMom6
MusingMom6 Recommends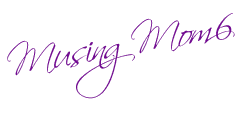 Disclaimer:
From time to time I will share information about products and services I recommend and/or use. Assume I may be affiliated with these products or services. For more information read my
Disclosure Page