I guess I would have to describe my position in both my husband's and my families as the "Black Sheep". I have always been one to go against the grain, not wanting to be like anyone else and just be me. In saying that, you should know:
1. I did not have a teenage pregnancy.
2. I did not Have to get married.
3. I was 24 yr old when I walked down the aisle with my "Prince Charming".
4. We didn't use birth control to remain childless for 5yr to get a financial foundation set up.
5. I did not return to college.
6. I am a SAHM.
7. I am HAPPY to be a SAHM.
8. I have more than 3 children.
9. I have a deep and personal relationship with God.
10. I have only been married once.
July, 2005, my husband lost his job. Not for poor performance, downsizing. We were beginning to find financial footing, then it was all pulled right out from under us. This was the second time in 15yr of marriage we went through losing a job.
My mother-in-law is not a very nice person. That said, she is also a full blood German and thinks God granted her the authority to dictate everyone's life.
The last 3 years she has given me some very thoughtless gifts. I have never said a word to her, but the look on her face is pretty much, "I don't care!". These items were "re-gifts" and not even anything I could have tried to use. I'm 5"2', the sweatpants were "Tall", a dated Christmas bell (she would have gotten this from her bridge group exchange) and a small sample/hotel bottle of hand sanitizer. This woman is ruthless. She then gave my husband a check for $150, she had never done that before!
Needless to say, even my husband is at wits end with her. We skipped inviting them to Thanksgiving this year my blood pressure just couldn't handle it. We haven't made any real plans yet for Christmas and my blood pressure is still not under control. After 20 years of her aggravating ways, I'm ready to divorce her and keep my husband.
OK, I've wanted to find a writing prompt I could relate to and this may be it!
My question to you, Have You Ever Gotten One of "Those" Christmas Gifts?
Please leave a comment and tell me about your experience.
PS. I will expand on my "list" in a later post.
More From MusingMom6
MusingMom6 Recommends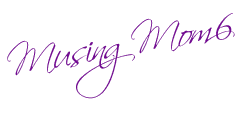 Disclaimer:
From time to time I will share information about products and services I recommend and/or use. Assume I may be affiliated with these products or services. For more information read my
Disclosure Page