"It's good to have money and the things that money can buy, but it's good, too, to check up once in a while and make sure that you haven't lost the things that money can't buy." ~ George Lorimer
One has to wonder, with the on going debate, SAHM vs Working Mom what is the motivation to debate? What are we really debating?
Being a SAHM my work is viewed everyday. Yes, those of you that look for your approval, acceptance, in your work are not traveling in my work place. Nor am I in yours. I have a plan not unlike your business plans, project teams, boards, etc. Mine is my home, my family and my business is growing, productive, worthwhile, genuine people.
My commodity...is more precious than any single item on the market that money can buy.
Personally, I have no idea how you do it. You get up, get youself and your children out the door, on to the sitter, school, whatever your situation. Then off to your work. You all have a variety of what it means to "Get your day/work started. You put in a full day, that could be an office, a factory, retail business these are just off the top jobs that I can think of. Then your day starts going in reverse. Mine at this time is similar.
Each individual family will have "their routine". Are you an activity burdened family? By that I mean, some families from both walks of life have their kids in sports, music, 4-H, etc. This is something I found to be very difficult with my situation. My husband is often not home on any given night, no chance to say you go here, I'll go there. At this point, in my home, I run into the difficulties of the single parent.
I get my laundry, grocery shopping, meal planning, mommy time, etc done while my children are at school. I'm not competing for me time while the kids are competing for mommy time.
Tension is who you think you should be. Relaxation is who you are. -Chinese Proverb
More From MusingMom6
MusingMom6 Recommends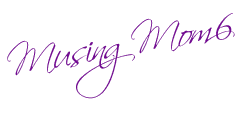 Disclaimer:
From time to time I will share information about products and services I recommend and/or use. Assume I may be affiliated with these products or services. For more information read my
Disclosure Page